Sale!
Specifications
| | |
| --- | --- |
| Certificate | CE |
| Color | Black |
| Retail Packaging | Colored Box |
| Gross Weight | 0.067kg |
| Volume Weight | 0.058kg |
| Length | 9.800cm |
| Width | 5.300cm |
| Height | 5.000cm |
| Weight | 0.060kg |
| With Retail Packaging | Yes |
Product Description
A7 Bluetooth Hands-free Car Kit MP3 Player FM Transmitter Dual USB Car Charger
Exquisite appearance with piano finish
LED digital screen to display the FM frequency
Support Bluetooth music, or music play from USB disk and TF card (card not included)
Built-in microphone with CVC noise reduction, making call more clear
The 3.5mm audio output lets you hook it up to your car stereo or speaker
Double USB charging ports with intelligent identification, up to 2.1A output
Other features: talking caller ID, navigation voice broadcast, auto power-off memory function, listening music while charging
Support FM transmitter function, full frequency: 87.5-108.0 MHz
Perfectly suitable for the car owners
Specification:
Bluetooth distance: 10m
Transmitting power: CLASS2 and CLASS3
Receiving sensitivity: -85DBM
Frequency response: 20Hz – 15KHz
SNR: >93dB
Distortion: <0.1%
Microphone effective distance: 0.5-2m
Working temperature: 0°C – 50°C
FM frequency: 87.5-108.0MHz
File format: MP3/WMA
Rated working voltage: 12V – 24V
Limiting operating voltage: 9V – 28V
USB output: 5V/2.1A
Size: 40mm x 40mm x 70mm
Compatible with:
iPhone iPad iPod
Samsung Sony Huawei etc phones and tablets
Other digital devices
Package included:
1 x A7 Bluetooth Hands-free Car Kit MP3 Player FM Transmitter Dual USB Car Charger
1 x Audio Cable
1 x User Manual
Accessory only, device not included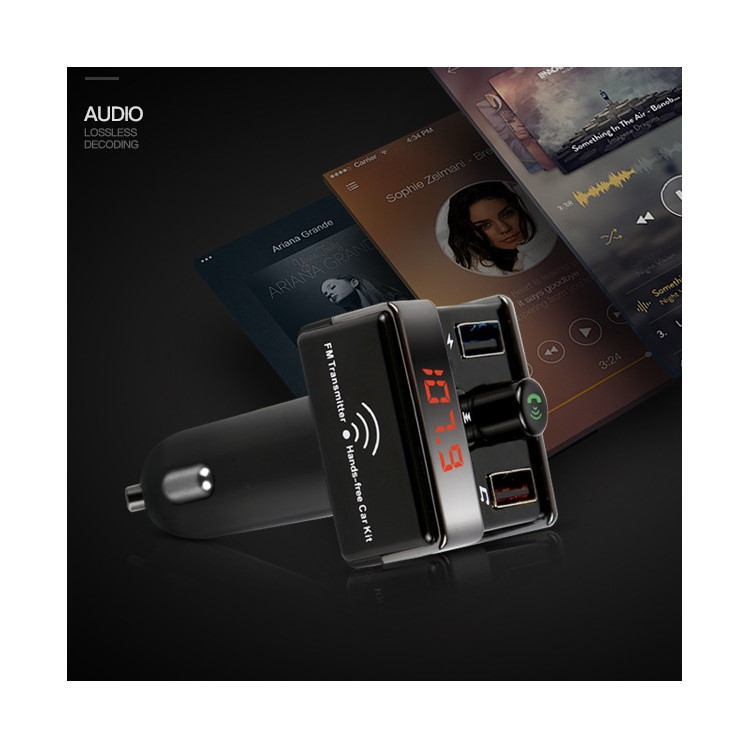 Conditions:
Voucher valid for 30 days from date of purchase
For More information please call +971 4 2674858
Valid for delivery only : AED 15 for delivery in all Emirates.
Delivery will be within 5 working days from the date of purchase.
Printed Bigfish voucher must be presented
Rating / Reviews
Only logged in customers who have purchased this product may leave a review.
Seller info
Bigfish.ae
Office 807 - Aramada tower 2 - Cluster P
JLT - Dubai - UAE
Tell 04 2674858
Similar Offers
Product Description
Specifications
| | |
| --- | --- |
| Certificate | CE |
| Color | Black |
| Retail Packaging | Colored Box |
| Gross Weight | 0.067kg |
| Volume Weight | 0.058kg |
| Length | 9.800cm |
| Width | 5.300cm |
| Height | 5.000cm |
| Weight | 0.060kg |
| With Retail Packaging | Yes |
Product Description
A7 Bluetooth Hands-free Car Kit MP3 Player FM Transmitter Dual USB Car Charger
Exquisite appearance with piano finish
LED digital screen to display the FM frequency
Support Bluetooth music, or music play from USB disk and TF card (card not included)
Built-in microphone with CVC noise reduction, making call more clear
The 3.5mm audio output lets you hook it up to your car stereo or speaker
Double USB charging ports with intelligent identification, up to 2.1A output
Other features: talking caller ID, navigation voice broadcast, auto power-off memory function, listening music while charging
Support FM transmitter function, full frequency: 87.5-108.0 MHz
Perfectly suitable for the car owners
Specification:
Bluetooth distance: 10m
Transmitting power: CLASS2 and CLASS3
Receiving sensitivity: -85DBM
Frequency response: 20Hz – 15KHz
SNR: >93dB
Distortion: <0.1%
Microphone effective distance: 0.5-2m
Working temperature: 0°C – 50°C
FM frequency: 87.5-108.0MHz
File format: MP3/WMA
Rated working voltage: 12V – 24V
Limiting operating voltage: 9V – 28V
USB output: 5V/2.1A
Size: 40mm x 40mm x 70mm
Compatible with:
iPhone iPad iPod
Samsung Sony Huawei etc phones and tablets
Other digital devices
Package included:
1 x A7 Bluetooth Hands-free Car Kit MP3 Player FM Transmitter Dual USB Car Charger
1 x Audio Cable
1 x User Manual
Accessory only, device not included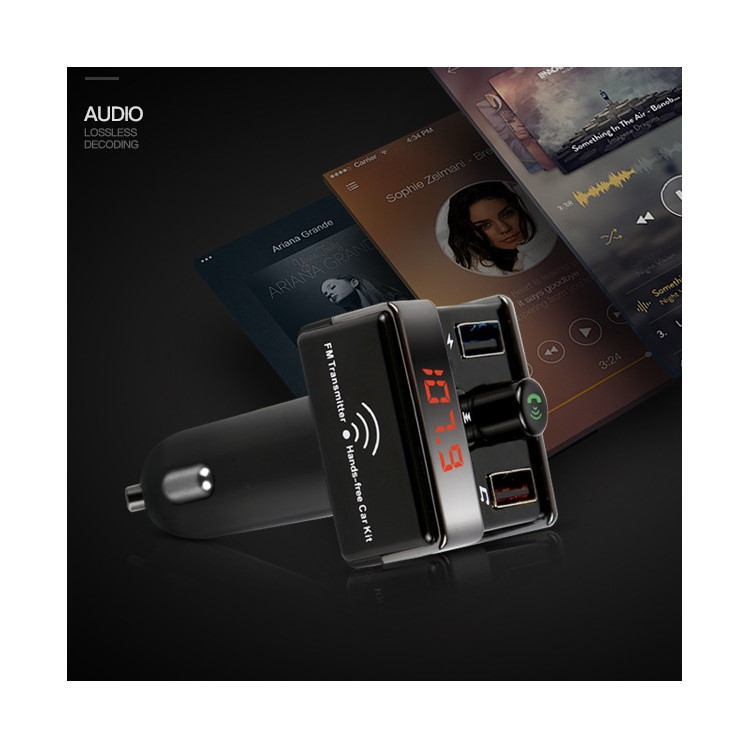 Conditions:
Voucher valid for 30 days from date of purchase
For More information please call +971 4 2674858
Valid for delivery only : AED 15 for delivery in all Emirates.
Delivery will be within 5 working days from the date of purchase.
Printed Bigfish voucher must be presented
Bigfish.ae
Office 807 – Aramada tower 2 – Cluster P
JLT – Dubai – UAE
Tell 04 2674858